Life changing
Step aboard one of the nimble expedition ships for an unforgettable in-depth exploration of Alaska's visual beauty and diverse wildlife. They allow you to explore places large ships cannot go, and kindle life-long friendships with your fellow passengers and Alaskan natives. Sail through narrow channels, past towering mountains. Stand on the open bow to observe wildlife from whales to bears to sheep on the mountain sides. Sleep under a a curtain of stars and wake to fresh vistas of glaciers and forests right outside your cabin.
Choice of daily activities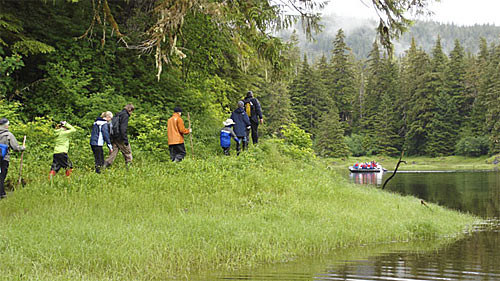 Hike, kayak, and shoot photos. Head off to explore a glacier aboard expedition landing craft, go for long hikes in a towering forest with a wellness specialist if you crave exercise, or choose a short slower walk, with time for your naturalist to share the unique wonders of the native flora. Stay aboard and read if you prefer. Or enjoy a wellness treatment in the spa. There's no one-size-fits-all scheduling here: you can choose your activities, activity levels, and staff members to join every day.
Explore the region's places and wildlife
Ship-based exploration lets you explore the wondrous and diverse habitats of Alaska. Hike over the spongy ground in a century-old forest and see bears one day. And approach a calving glacier by expedition landing craft the next. Sail into Glacier Bay National Park and linger in a quiet lagoon to observe a group of humpback whales.
See the undersea, too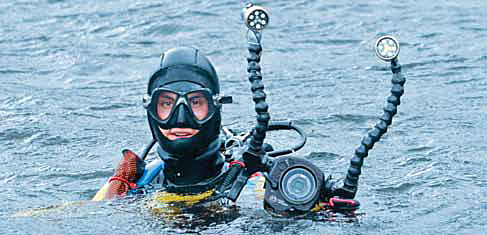 Exclusive to us, and on every Alaska expedition—undersea exploration. An undersea specialist dons cold-water diving gear to shoot video of the undersea to share in the ship's lounge. Watch as purples and greens spring to life as beams of light paint the seafloor 40 to 80 feet deep in places never before explored. See vast kelp forests swaying in the currents and discover strange and wonderful marine life here—it is pure exploration of sites seldom, if ever, seen by humans.
Kayak and expedition landing craft cruise scenic shorelines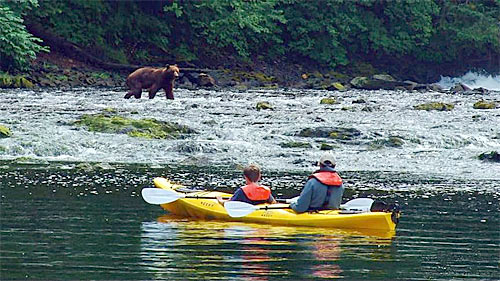 Our ships are outfitted with tandem and single kayaks that allow for personal, water-level exploration of the scenic coastlines. Kayak past nesting birds and lounging sea lions, or just enjoy the silence and pleasure of a leisurely row. Shoreline cruises aboard expedition landing craft are perfect for relaxed exploration with a naturalist's narration, and the ideal platform for photography.
Experience the cultures and heritage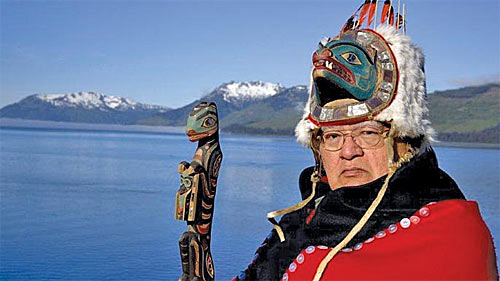 A Huna Tlingit Cultural Interpreter joins us aboard when we sail into their ancestral homeland, Glacier Bay National Park. Learn the lore and legends that add a fascinating cultural layer to the breathtaking scenery. Plus, visit an authentic Alaskan town and fishing village to explore the waterfront and shops. And visit the ancestral Haida village of SGang Gwaay (Ninstints), a UNESCO World Heritage Site or K'una (Skedans), to immerse yourself in Haida history, culture and impressive art—on our Remarkable Journey to Alaska, British Columbia and Haida Gwaii itinerary. We have special permission to visit Gwaii Haanas National Park Reserve, National Marine Conservation Area Reserve, and Haida Heritage Site— the only ship with over 22 guests in over two decades permitted to do so.
Enjoy the daily ritual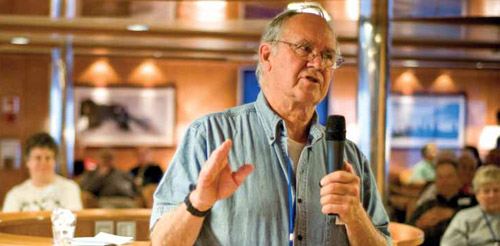 Each evening at cocktail hour the entire expedition community gathers in the lounge for an expedition ritual we call Recap. As you enjoy cocktails and hors d'oeuvres, various naturalists give talks, the undersea specialist may show video, and your expedition leader will outline the following day's schedule.
Savor time aboard ship
Wildlife talks and guest lectures will be offered as well. And when the ship is underway, it's a wonderful time to stand on the bow with a naturalist or photo instructor and scan the horizon for whale spouts, visit the bridge to share the Captain's view, or go to the sundeck at night for a bit of stargazing.